MIND THE GAP
Time to look beyond traditional hiring routes to bridge the skills gap

The skills gap in the UK continues to grow across a number of sectors with a rising demand for applicants who have real world experience of the workplace.

Having access to workers who are are well-trained, able to adapt and knowledgeable in their roles is a key factor that sets successful companies apart from failing ones. Yet, securing the right people with the right skills is getting more complex and challenging than ever before.

Research from City and Guilds claims that nine out of ten UK employers struggle to recruit, while two thirds predict that skills shortages will stay the same or get worse in the next three to five years.

According to a report from Prospects Luminate, Skills shortages in the UK 2019/20, which takes its data from the Employer Skills Survey (ESS) 2017, a third of vacancies in the UK were considered 'hard to fill' due to lack of required skills, qualifications or experience among applicants needs to do the job properly.

Furthermore, the Open University's Business Barometer Report 2018 revealed that employers are spending over £6 billion a year on plugging skills gaps in their organisations. This outlay is predominantly from inflated salaries, temporary staffing, training for employees taken on at a lower level and additional recruitment costs.

The research, collated from 950 senior business leaders in organisations of all sizes across the UK between 8th and 25th May 2018 also revealed over the previous 12 months:

The skills challenge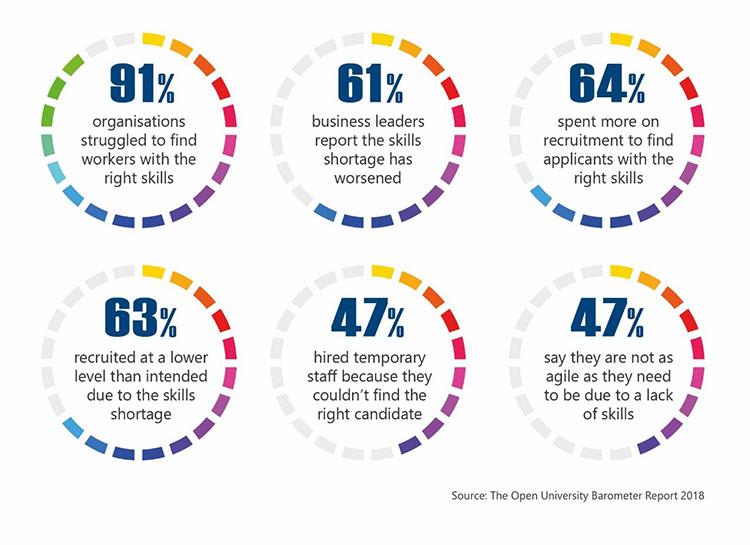 While buying skills rather than building them may address the issue short term, to secure the skills you need long term, employers need to develop new approaches to workforce development and look beyond traditional hiring routes.
Building a workforce for the future

Apprenticeships are a vital part of the solution to the skills gap problem. Designed to create confident and competent staff in a particular role over time, they are a highly effective means for organisations of all sizes to build a strong talent pipeline.

By offering practical, high quality on the job training, you not only secure the skilled workforce you need for the future, but apprenticeships can bring a whole range of immediate benefits such as improved productivity and increased staff loyalty, retention and engagement.

And what's more, there are also a range of funding options available with apprenticeships – so you may be able to dramatically reduce the amount that you spend on accessing and developing the skills you need, particularly if you are paying out to buy them in.

Improving social mobility

Lack of career path/advancement opportunities is one of the main reasons employees leave an organisation. Replacing good staff is expensive, but apprenticeships enable you to offer a clear pathway for progression. You can take on individuals with the right attitude and ambition and invest in them with apprenticeship training to prepare them for more senior positions.

Apprenticeships are fundamental to social mobility, and many apprentices start their journey at Level 2 which is a critical career entry point. This offers individuals who are new to a sector and/or role a strong foundation in their chosen profession before progressing through to Level 3, Level 4 and so on.

Improving our skills base is crucial to the future prosperity of the UK. In order to keep up with changing skills needs and attract the right people, we need to look beyond quick fix solutions and move towards a model of lifelong learning, where employees are continually learning, upskilling and ultimately, becoming more agile. Apprenticeships are central to this vision.
Search Vacancies
Search

Vacancies Updated
No Results Found