HOME | NEWS | APPRENTICESHIP VACANCIES | LEARNING GATEWAY | CONTACT US

NATIONAL APPRENTICESHIP WEEK 2020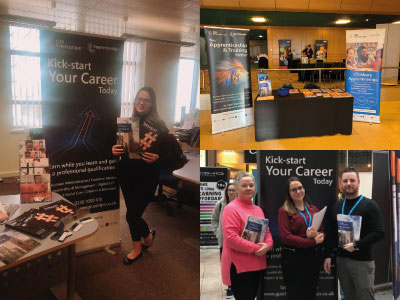 On Monday 3rd February we attended Drake Circus Shopping Centre in Plymouth, an invitation only event from Devon and Cornwall Trainer Provider Network. This was a great opportunity to speak to the general public about apprenticeships, as well as local school children who were considering their career options.

Wednesday 5th February was Torbay Apprenticeships Fair in Torquay. We had lots of conversations with young people and employers on how apprenticeships can be used to train and develop new and existing staff within an organisation.

On Thursday 6th February, we visited our local job centre in Plymouth to discuss how we can support individuals looking for employment. We also explored apprenticeship training opportunities and how to upskill Maths and English through the functional skill programmes we offer.
SEARCH AVAILABLE COURSES
Search

Vacancies Updated
No Results Found