HFT AWARD
Hft ranked as the 11th best apprenticeship employer in the country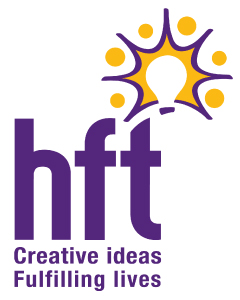 Hft, a national charity supporting adults with learning disabilities, has been ranked within the top 15 best apprenticeship employers in the country.

Hft was revealed as number 11 in this year's Top 100 Apprenticeship Employers 2020. The organisation was also the highest ranked charity and social care provider in the list released by the Government, which celebrates employers from a wide range of industries across both the public and private sectors.

Apprentices account for around 20% of Hft's workforce and are focused on gaining skills, experience and qualifications while earning a wage. The first apprentice funded by the Government's Levy scheme began in August 2017, and today there are more than 600 apprentices across the organisation taking part in nationally recognised training and development programmes to start or further careers, predominantly in social care and management, but also in areas such as administration, IT and accountancy.

Strong partnership with GP Strategies

Hft has a strong partnership with apprenticeship training provider GP Strategies, which has worked closely with the charity to drive its programme forward.

The leader board, which recognises and celebrates employers' commitment to providing successful apprenticeship opportunities, was independently compiled from more than 400 applications, which analysed data such as the number of apprentices from across different levels and topics, how many completed qualifications and the amount of people who went on to study further qualifications at higher levels.

The ranking is the latest recognition of Hft's commitment to developing its workforce. Last year the charity was endorsed at the highest level by Skills for Care when it was awarded Centre of Excellence status in recognition of its exemplary training provision.

Sue Hill, Hft's Head of Organisational Development, said:

"We are absolutely thrilled to be named as the eleventh best apprenticeship employer in the country. It is fantastic to be recognised for the opportunities we offer and is a testament to both the hard work of those working behind the scenes that are responsible for driving the delivery of the training, and our apprentices' commitment to the programmes.

"Professional development is extremely important to us and we strive to offer exemplary learning and development opportunities for all staff. Apprenticeships are an important part of this, as they offer a structured framework for staff to gain skills in numeracy and literacy as well as nationally recognised qualifications for those who are new to the sector or may want to further their careers.

"We are really keen to continue to grow opportunities for both new and existing staff and would encourage anyone considering starting out in a career in social care or keen to further their career to consider an apprenticeship. This is a fantastic opportunity to learn new skills, gain formal qualifications and earn a wage at the same time."

Dave Martin, Vice President, GP Strategies, said:

"I'd like to congratulate Hft for its well-deserved ranking in the Top 100 Apprenticeship Employers this year. Apprenticeships are the cornerstone of career progression at Hft and we are proud to be working in partnership with such as forward-thinking employer. This recognition is testament to the organisation's commitment to grow its own talent, inject new skills into its workforce and develop high calibre employees who thrive and progress."

Opportunities to develop and progress with Hft

Phoebe Roberts from Stroud in Gloucestershire joined Hft in April 2018. She is just one of the many apprentices who have found their place at Hft, working her way from a relief support worker role to an acting Registered Cluster Manager in less than two and a half years. The 22 year old completed her Level 2 apprenticeship in 2019, and immediately progressed to her Level 3 qualification after being promoted to senior support worker. Phoebe is currently working as acting Registered Cluster Manager while she finishes her qualification at an Hft service in Stroud.

Phoebe said: "My career had previously been in customer service and I took on a relief support worker role because I have always known I wanted to help people. Initially I wasn't aware of the development opportunities available, but when they were offered I couldn't wait to start. I love support work and it's been really rewarding to obtain a qualification through Hft. I think apprenticeships are so important, as they help to develop your knowledge and support you throughout your role. Taking this route has definitely helped me to carve out a career path in care and progress from a support worker to senior to an acting Registered Cluster Manager."

Find out more about apprenticeship opportunities with Hft.
Search Vacancies
Search

Vacancies Updated
No Results Found