HOME | MONTHLY ACHIEVERS | NEWS | APPRENTICESHIP VACANCIES | CONTACT US

MSP VISIT TO PEBBLES CARE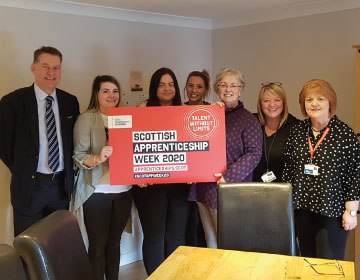 On Friday 6th March, as part of Scottish Apprenticeship Week, Modern Apprenticeship employer Pebbles Care enjoyed a visit from Murdo Fraser MSP.

Pebbles Care provides therapeutic and safe residential services that support a range of needs for young people who require additional support in both life and learning.

GP Strategies supports Pebbles Care with the delivery of level 3 and 4 Modern Apprenticeship programmes across its Scottish locations.

Murdo Fraser MSP was introduced to three learners GP Strategies is actively supporting in their Modern Apprenticeship journey - Kerry Kinnes, Simone Friel and Alex Duffy.

Joy Wakenshaw, Head of Care at Pebbles Care and Maureen Cassidy, Area Manager, also attended and expressed the importance of Modern Apprenticeships as a tool to help develop a highly skilled and knowledgeable workforce.

A very enjoyable afternoon exploring the valuable experience of Modern Apprenticeships – thanks to Pebbles Care for hosting and providing some delicious home baking!
SEARCH AVAILABLE COURSES
Search

Vacancies Updated
No Results Found